AES Teaching & Learning Hub
Teacher Spotlight 🌟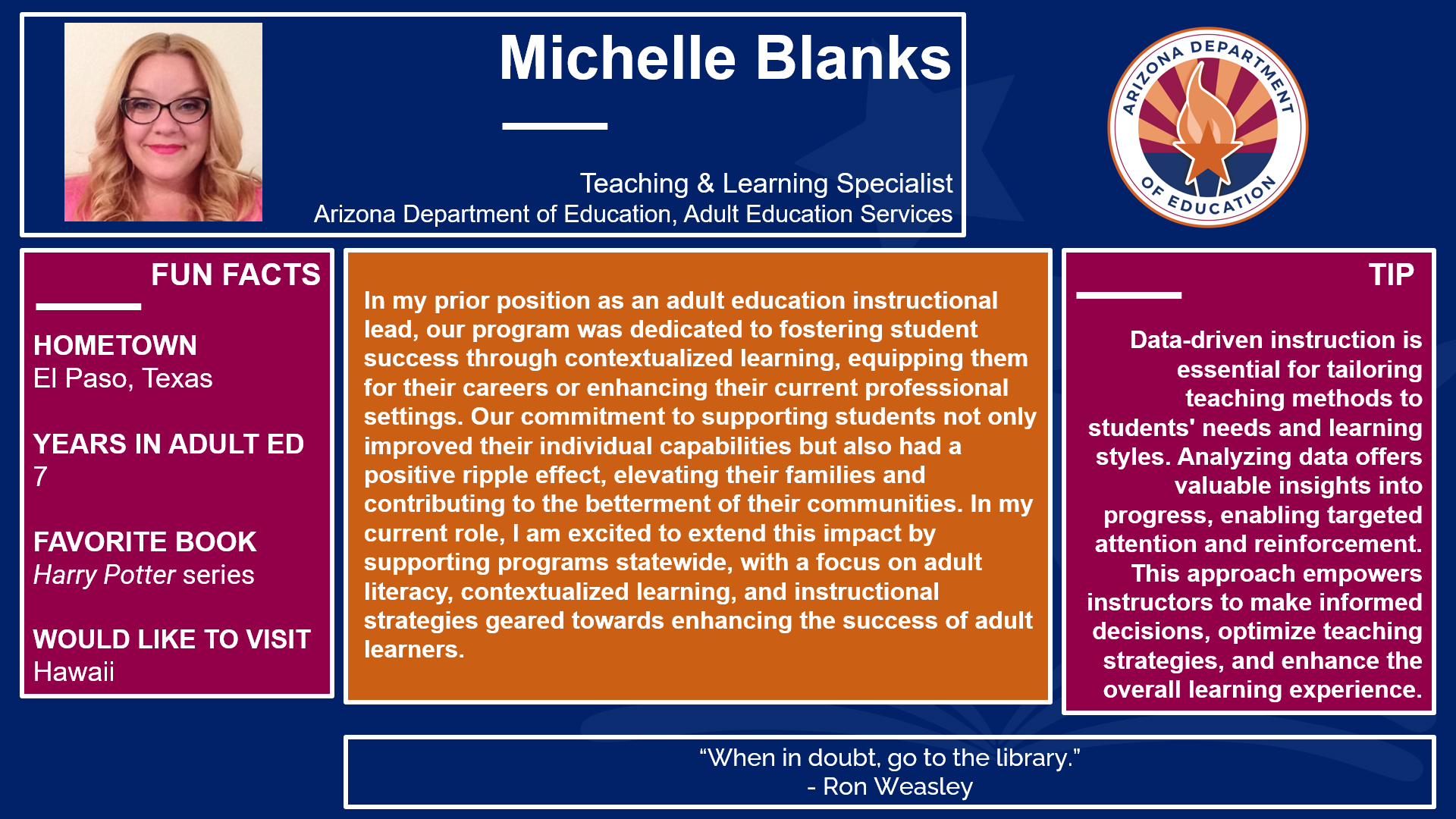 Send teacher spotlight nominations to [email protected]
Assessment Policy
Arizona Adult Education Assessment Policy
Blended & Virtual Learning Policy
Blended and Virtual/Distance Learning Policy
The Essentials of Blended Learning Infographic
AZ Adult Education Teacher Standards
AZ Adult Education Content Standards
ABE Standards
ELP Standards
ISTE Standards
Look at our Teaching & Learning Curricular Resources Page for more information on:
State Provided Online Curricula Training and Tips for Success - (Burlington English, Discovery Education, EdReady, and Essential Education)
State Approved Curricula for Proxy Hours (Teacher Verification - TVM, Clock Time, and Leaner-Mastery Models)
Standards-Based Curricula Resources
Tech Tips
We are happy to bring you bi-weekly Tech Tips for quick and fun helpful hints, new ideas, and ways to troubleshoot. All will be placed into a Padlet for your convenience; bookmark the page to get the latest updates! Each tip can be printed to post around your facility or emailed out to other faculty and staff! We are happy to take requests for topics, reach out to [email protected] with your ideas.
Instructional Modalities
Blended & Distance Learning
HyFlex Learning
NEW: EdTech Center @ World Education's HyFlex guide and video series! Review the Guide for Design and Implementation of Hybrid-Flexible (HyFlex) Models in Adult Educationfor information and examples for HyFlex program and instructional planning, teaching strategies, program evaluation, and technology. It also includes 10 program vignettes that share how adult education programs are offering HyFlex for adult learners - featuring one of AZ's own!
Check out this infographic to learn a bit more about what it entails and how to get started.
HyFlex Choice Board! Click here to learn about engagement strategies, technology tips, and more!
Digital Literacy Supports
Library Resources
Assessments, Curricula, & Resources
Northstar Digital Literacy has NSOL platform courses freely available at the moment, including: Basic Computer Skills, Email, Microsoft Word, and Career Search Skills.
Digital Skills Libraryis an open repository of free learning resources designed to help all adult learners develop the digital skills needed to achieve their personal, civic, educational, and career goals.
Google Applied Digital Skills for students to learn job-ready skills with video-based lessons, free.
Courses for Instructors
Google Applied Digital Skills for teachers gives access to video-based lessons to prepare students for jobs in the digital age.
LINCS Integrating Technology Self-Paced Courses:

Build a Lesson with OER
Integrating Technology in the Adult Education Classroom
ESL Pro Module 2: Integrating Digital Literacy into Adult English Language Instruction
Learning Forward Standards for Professional Learning
Planning for Professional Learning
PLIP Guidance Document
Look at the PLIP Guidance Document for help on filling out your plan.
PLIP Template
All program providers received a custom link for their unique PLIP Template. If you require access to your program's PLIP document, please reach out to your liaison or the teaching and learning team at [email protected].
PLIP Resources
Look at our Professional Learning Page for more information on:
State Leadership Initiatives (upcoming training, cohorts, and resources)
Self-paced PD courses (including our NEW Adult 101 course!)
External Professional Learning organizations and opportunities
Thank you for visiting our hub!
Contact us at [email protected] if you have any questions/concerns/comments. :)