AES Teaching & Learning Curricular Resources Page
State Provided Online Curricula
Training Options
Burlington offers asynchronous self-paced training and synchronous virtual training. To request either, please reach out to [email protected].
Tips for Success
A new translation is available for Getting Started Student guide, download the Ukrainian version here
Check out the flyer on how Burlington can now integrate to your LMS, which is specifically designed to digitize unit tests that are typically PDF or worksheet based.
Training Options
Synchronous Activities
1. Getting Started with Discovery Education: reach out to [email protected] with a proposed date, time, and number of teachers. Please note that DE requires a minimum of 5 attendees to hold training.
2. Professional Learning Sessions:Check out and attend an upcoming webinar. If you would like to schedule professional learning sessions tailored for your teachers or coaches, just let us know!
Asynchronous Resources
1. Ready-to-Use Activities! Have your teachers explored our ready-to-use activities? These time-saving activities can be used as-is or modified to meet the needs of your classroom! From Background Builders to Sentence Fix-Its to Choice Boards and more - teachers can find quick grab and go resources to use anytime in the Instructional Activities Channel. Click here to learn more!
2.Self-Paced Interactive Courses: Learn more about DE through these courses and receive a certificate of completion at the end!
3. The below recordings of past sessions are also available for you to watch (recommend viewing in the order below):
September Tips for Success
The September Newsletter that is full of relevant resources including instructional strategies, information on Marzano Academies, and resources to support Hispanic Heritage Month! 
Join Discovery Education for a variety of webinars in September on using Discovery to support Social Studies Instruction and English Language Learners (open to AZ Adult Education Instructors).
Discovery Education Techbook
Students can browse and use navigation to access specific materials. Assigning content, though, whether an individual resource or an entire concept or unit, ensures that students have fast access to materials, minimizes distractions, and creates opportunities for tracking completion!
Training Options
There is no formal training needed to get started with EdReady as it was built for students to self-enroll and take control of their learning. We do however, offer an Instructor Quick Start Guide and you can request synchrnonous support at any time, reach out to [email protected].
Tips for Success
1. EdReady Student-Specific Reports allow you to see information about an individual student's activity in a specific study path, including each testing activity, the resulting status/points earned, and the questions each student encountered. Additionally, the reports highlight how each student is spending their time in EdReady and whether they're taking advantage of the Learn Resources as much as you'd expect. (Short on time? Bookmark this Help Center article.)
3. Visit our shared Google folder with EdReady resources for Algebra 1, English, and Developmental Math that can be printed.
Highlights
Congratulations to RIO-VLA as the Essential Education user of the month!  
RIO-VLA had the highest percentage of assigned seats used at 107% for the month of August.  
Congratulations, RIO-VLA!
RIO-VLA will receive a complimentary set of ABE Essentials workbooks and additional student resources! 
Happenings
NEW READING PROGRAM FOR ADULT STUDENTS IS NOW AVAILABLE!
MindPlay Reading Ultra is now available to add to your current Essential Education courses! This virtual reading program adapts to each student's reading level to help them improve their skills. Students and instructors can easily access MindPlay from inside the HomeRoom-no extra links, usernames, or passwords required.
To schedule a demo of MindPlay Reading Ultra, access John's Calendar.
Training Options
Synchronous Training
None scheduled at this time; reach out to [email protected] to request training.
Asynchronous Training
Tips for Success
State Approved Curricula for Proxy Hours
How it works:
Automatically tracks student's time-on-task and can generate reports showing student usage over a period of time.
ADE Approved Curricula
ALEKS (MHC)
Aztec Software
Odysseyware
Edmentum
Skills Tutor
EdReady
ACRC
Khan Academy
Learning Upgrade
Essential Education
ESL ReadingSmart
Rosetta Stone
BurlingtonEnglish
McGraw-Hill HSE Achieve
Northstar Digital Literacy
How it works:
Assigns a fixed number of proxy hours once the learner passes a test.
Learners work ina curriculum; when they feel ready, take a test.
If they demonstrate mastery (typically 70% & up), they earn the proxy hours attached to the material.
ADE Approved Curricula
USA Learns
NROC LMS installed courses (Math & English)
Reading Skills for Today's Adults
How it works:
Assigns a predetermined number of proxy hours for each assignment based on teacher determination of the average time a learner engaged in, or completed, the assignment.
Examples of Eligible Resources
Courses created in LMS (such as Canvas, Blackboard, Moodle), YouTube instructional videos, recorded lectures, etc.
Steps for the TVM
STEP 1: Required Course
Blended Learning Certification (TVM Requirement)
This course will ensure your understanding of blended learning as an instructional model to use the TVM effectively. Then, it will walk through the processes for earning/reporting attendance hours through the Teacher Verification Model. It will conclude with a capstone to demonstrate your understanding of the TVM process. Register here.
*Successful completion = receiving a Certificate of Completion for the course which must be kept on file at the program (digitally or physically).
STEP 2: Submit a Lesson to the TVM Repository
After you have successfully completed* the Blended Learning Certification course, submit a lesson for the TVM using this template.
Check out the new JotForm video walkthrough to see the template for submitting lessons in action and ensure your submission can be effectively used by other AZ Adult Educators.
STEP 3: Explore the Statewide Lesson Repository
TVM Website Repository!
Click the image to visit the lesson repository or visit tvm.pory.app.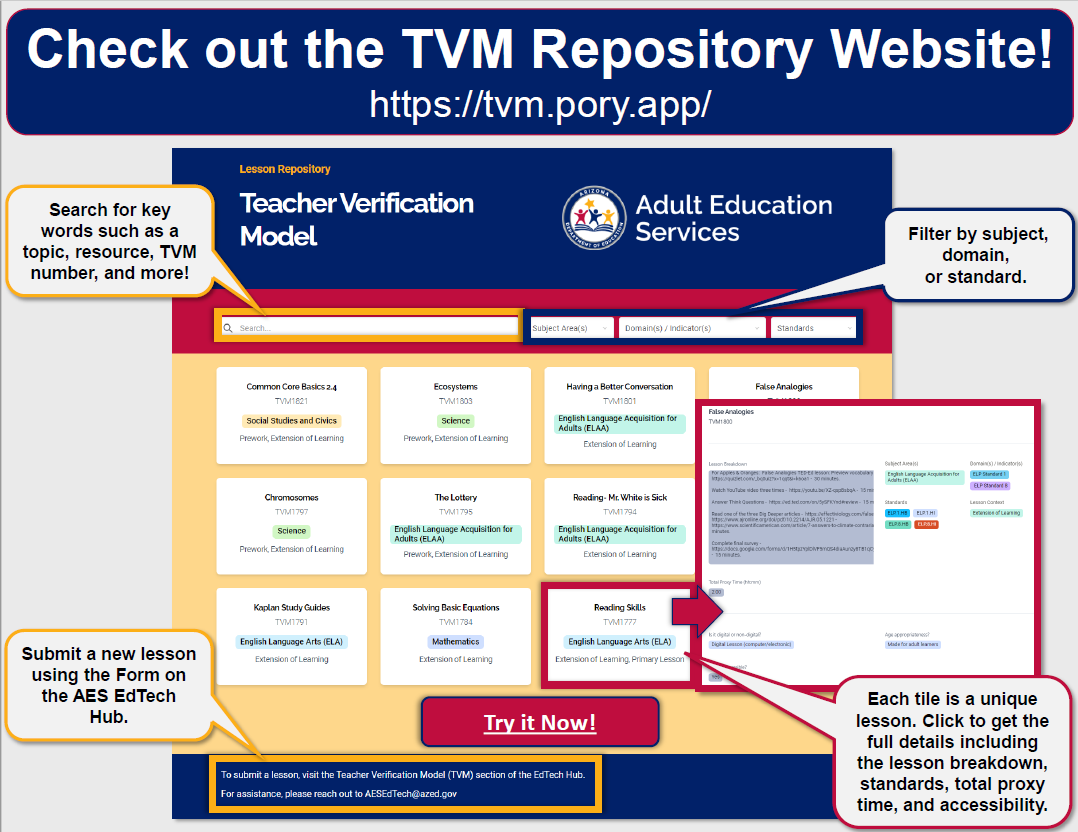 Standards-Based Curricula Resources